Trail Reports
Posted: 02/03/2023 02:34 pm
Status: Open
Condition: Good
February 3rd Edge Riders Update
All North trails have double groomed paths except for Stoney Point area which has a single pass. Several of the groomers needed some maintenance this week, oil change Pisten Bulley, and Hydraulics on the South Groomer. New shelter with Outhouse was installed at Harrison Creek, users of Can-Am trail can also utilize this new shelter. All South trails were groomed on Monday and on Thursday afternoon the groomer made it half way to Stony and had machine hydraulic issues so had to turn around. We plan to cover this ungroomed portion of trail this weekend. Next week were going to work on a new land trail thru state land, if you help a few hours message us. Thanks, have a fun weekend.
Posted: 01/26/2023 07:08 pm
Status: Open
Condition: Good
January 26 Update
Mission accomplished, regarding having a doublewide groomed trail from Warroad to the Northwest Angle. That meant Brian, our northern Groomer operator spent eight hours in the Groomer "thinking about life" we had to add an auxiliary fuel tank to make this long trip happen, but everything worked fine the rest of the trails got a single grooming, there are a few slushy areas but the inlet is most prevalent with slushy conditions.  We have some winds in the forecast so we hope the double wide grooming allows smooth trails for a much longer period of time. Have a great weekend everyone and dress warm while the north Groomer was on the road we did a quick drone picture of some local grooming Jenny did today.
Posted: 01/19/2023 08:49 pm
Status: Open
Condition: Good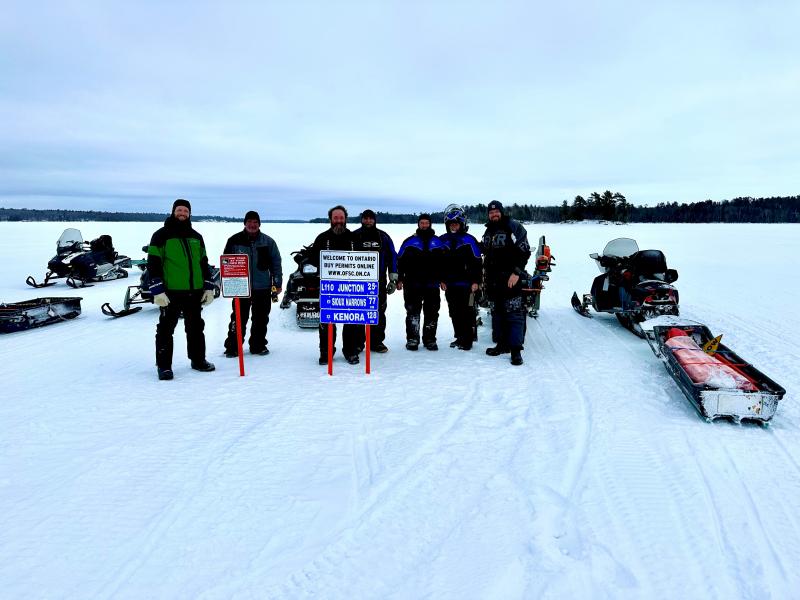 January 19, 2023
It was nice to meet up with the Kenora Sunset Riders yesterday as they finished the trail from Sioux Narrows to Oak Island, that trail once upon a time existed but it was over 10 years ago.  We had 2 groomers out this week, north groomer hit the NWA area, The groomer conducted double passes in some slushy area's primarily near Little Oak Island and south side of Flag Island.  Single passes on the remainder of the system.  The south groomer covered the spur trails to Arnesen's Resort and Roseau, along with the primary trail Warroad to Stony Point.  The forecast thru Tuesday seems mild for this time of year so get out and enjoy the trails.  This next week we plan to move another warming house to the Harrison Creek area, this warming house will have a portable outhouse next to it, a first for us.