Northwest Angle Edge Riders
As a lot of us are aware, the snowmobile trails in the Northwest Angle area are among the best anywhere, from a grooming aspect, for being well marked as well as marked early in the season and for connecting to trails that take you anywhere you want to go – south to the Baudette Sno-Drifters' trails and the Roseau Trailblazers' trails as well as north to the Ontario and Manitoba trails. Click here for border information.
Posted: 01/23/2020 08:49 am
Status: Open
Condition: Good
January 23, 2020 Trail Report
See Trial Map Colors for condition report
Blue = mini groomer covered this area, still not enough ice for big full size groomers, we've check ice thickness weekly
Green = groomed. Minnesota point to Stony Point has a single path everywhere else has a double.
 Yellow = 100% ride-able, with warmer temps watch for ruts
Trail Traffic - We are retrieving our drag from Stony Point today after our Piston Bully broke down. We plan to get a couple woods passes done tonight with the 160 groomer or tomorrow night as daytime temps may be too high.
Latest Events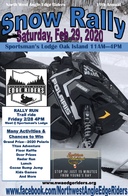 Annual Snowmobile Rally
Sat, Feb 29th, 2020 11:00AM
Latest News
Sat, Dec 07th, 2019 | Edge Riders
Feb 29, 2020 Raffle Ticket Prize List
Support the club and chance to win some cool stuff
Read More...