Northwest Angle Edge Riders
As a lot of us are aware, the snowmobile trails in the Northwest Angle area are among the best anywhere, from a grooming aspect, for being well marked as well as marked early in the season and for connecting to trails that take you anywhere you want to go – south to the Baudette Sno-Drifters' trails and the Roseau Trailblazers' trails as well as north to the Ontario and Manitoba trails.
Posted: 02/21/2020 11:01 am
Status: Open
Condition: Good
February 21 Trails Update
Green has been groomed this week. Woods trails still in good shape. We just got back from Warroad and this trail has been groomed.  If you need a fishing tip, It looks like a resort has been fishing a little south of our Rudy point Trail and has chewed it up a bit maybe next time they go down that trail their fishing bombers could pull a drag and help clean it up a bit. just a reminder our snowmobile rally is next weekend.
Latest Events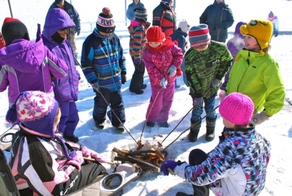 We will ride to new shelter on Driftwood Point and cook hotdogs
Fri, Feb 28th, 2020 4:00PM
Latest News
Sat, Dec 07th, 2019 | Edge Riders
Feb 29, 2020 Raffle Ticket Prize List
Support the club and chance to win some cool stuff
Read More...